Our Business Activities
EPC Projects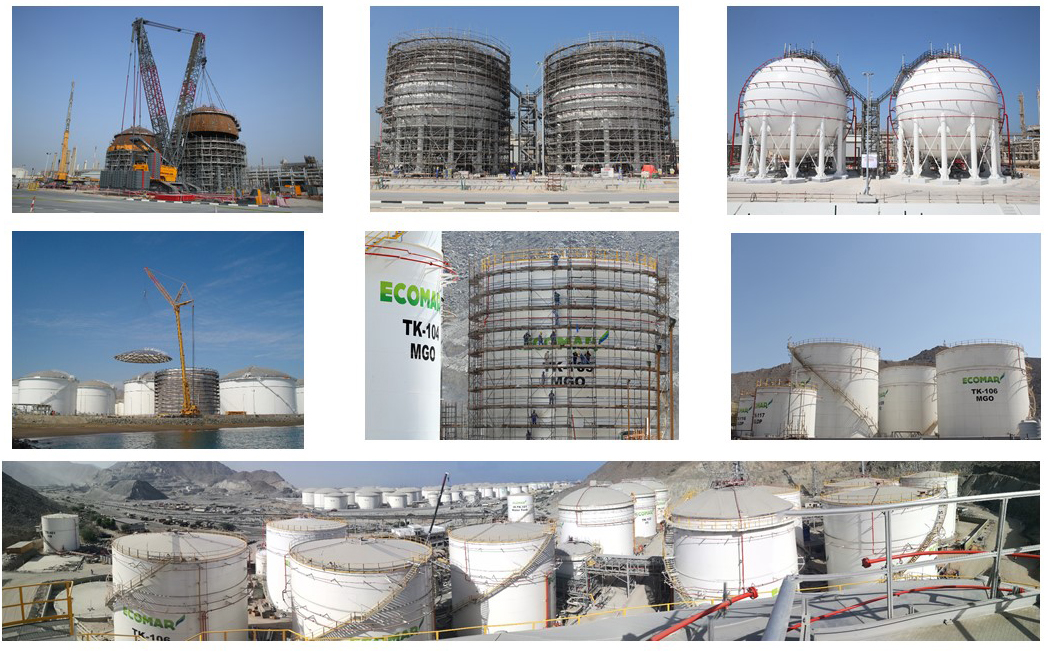 Design, engineering, project management, construction and commissioning of Spheres, vertical storage tanks , tank foundation, plant piping, structural, mechanical, civil and electrical instrumentation for process plants, oil& storage terminals at airports and power plants.
Construction and Erection of, Process equipment's (such as Pressure Vessels, Columns, Towers, Flare stack Bullets,) Spheres, Pig Launcher Receivers, Marine Loading Arms (MLA).
Thermal Energy Storage (TES) Tanks
Construction Sample Capabilities:
Storage Facilities & Terminals
Blending And Manufacturing Plants
Process Plants Green Field Facilities
Distribution Facilities for Loading and Unloading
Pipelines for distribution facilities
Berth Works for Loading and unloading
Construction:
Storage Facilities with API 650/API 620 Storage tanks up to 100M Dia+
Production Facilities with Process Piping 48Inch Dia + (CS, SS, Alloy Steels)
Pipelines for Oil and Gas as well as water transmission up to 20 Kms
Static Equipment Fabrication and Installation
Rotating Equipment Installation
Steel Structure Fabrication and Installation for Production Facilities
Maintenance and Upgrades for Static Equipment and Piping in Brownfield, and Green Field Projects
Berth Works and for loading facilities.
Civil Works
E & I Works for Terminals and Production Facilities
Fire Fighting Equipment and Piping Installations
Building Services, MEP works and others.
Decommissioning and Commissioning Works
Testing and NDT of on site Installations
Shop Fabrication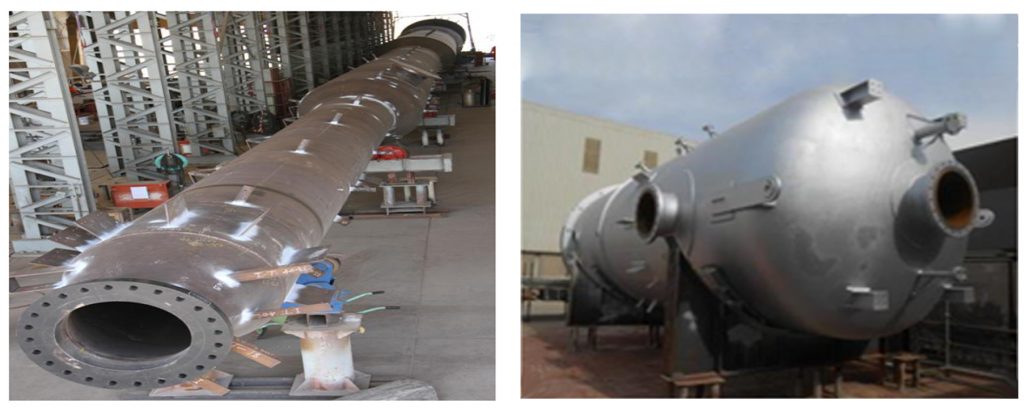 Design:
Design, Engineering, Procurement, Fabrication, Painting, Testing of ASME Coded Process Equipment
Pressure vessels, Columns with ASME "U" and "U2" stamp.
Above ground and underground storage vessels, rectangular storage tanks, atmospheric vessels, silos.
Floating suctions and skid mounted units for various process applications.
Design, detailed engineering & construction of pressure vessels, process equipment, columns, towers, flare stacks, Tanks for LPG and propane gas.
Fabrication:
Rolling Machines & Hydraulic Plate Rolling capability up to 70 mm thick plates
CNC Cutting Machines / Plasma Cutting Rail Gauge 3600 mm
CNC Drilling Machine capable of handling plate thickness of 100 mm maximum
Scaffolding Works with a dedicated team, tools & equipment combined with an excellent QA system
Painting Facilities supervised by NACE & British Gas (BGAS) Certified Painting Inspectors & Supervisors
Skilled Manpower comprising of CNC & Rolling Machine Operators, Welders, SMAW, FCAW, TIG, SAW
Fabrication Equipment Sample Capabilities:
Pressure Vessels Atmospheric Tanks
Heat Exchangers
LPG Storage Tanks
Air Receiver
Separators
Scrubbers
Silos
Strainers
Surge Tanks
Process & LPG Skids
Waste Gas Knock Out Drum
Operations & Maintenance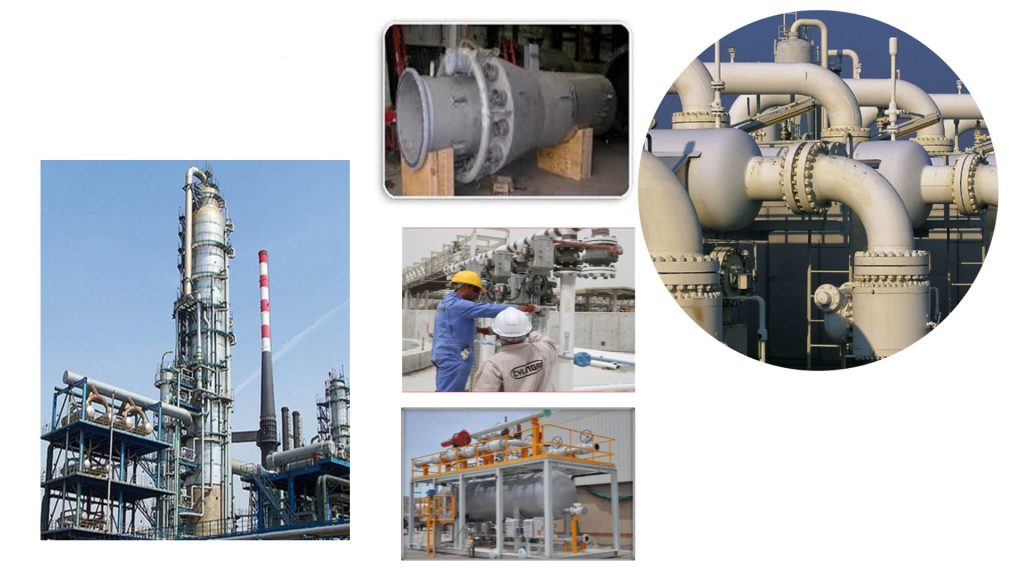 Extensive experience in Maintenance and Refurbishment of the process equipment, process piping, utilities, storage facilities and tanks.  Work is done efficiently and safely during critical shutdowns (CSD) and emergency shutdowns (ESD) in brownfield Oil & Gas and Water & Energy sectors.
SPECIALIZED MAINTENANCE SERVICES                                                                                     
Tank Maintenance & Refurbishment
Pressure Vessels Repairs
Marine Loading Arms Servicing
Piping & Tie-In Works
GRE Piping
Columns Internals Installation
Flare Tip Repair
LPG/Diesel Tank Retesting
INTEGRATED MAINTENANCE
General Mechanical Works
Machining Works
Special Welding/Weld Overlay
Bolt Tightening/Flange Opener
Scaffolding
Blasting & Painting
Pickling & Passivation
TECHNICAL SERVICES & SUPPLY
NDT Services (RT, UT, PT, MPI…….)
Man-Power Supply (Welder, Fabricators…….)
Secondments (QC/EHS Inspectors…..)
Engineering & Design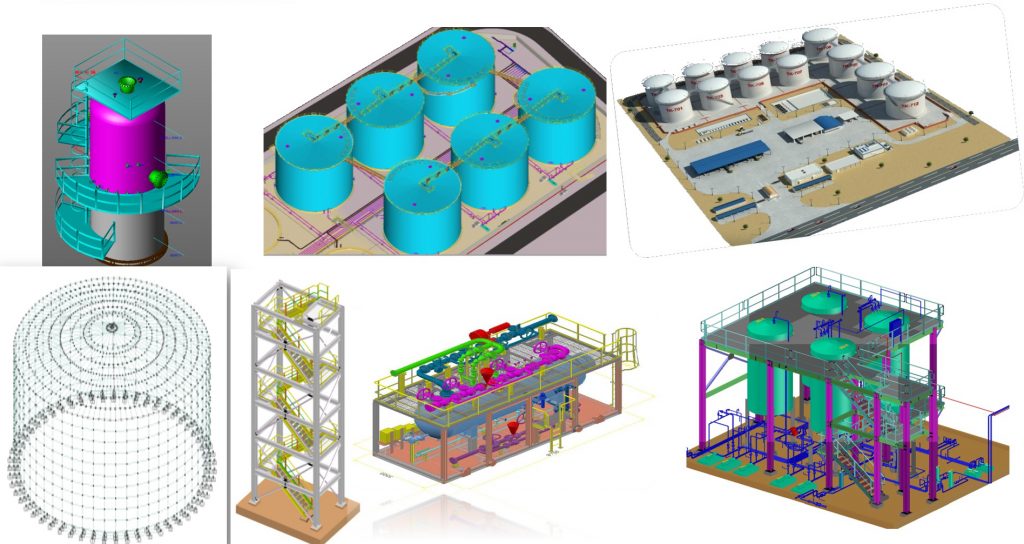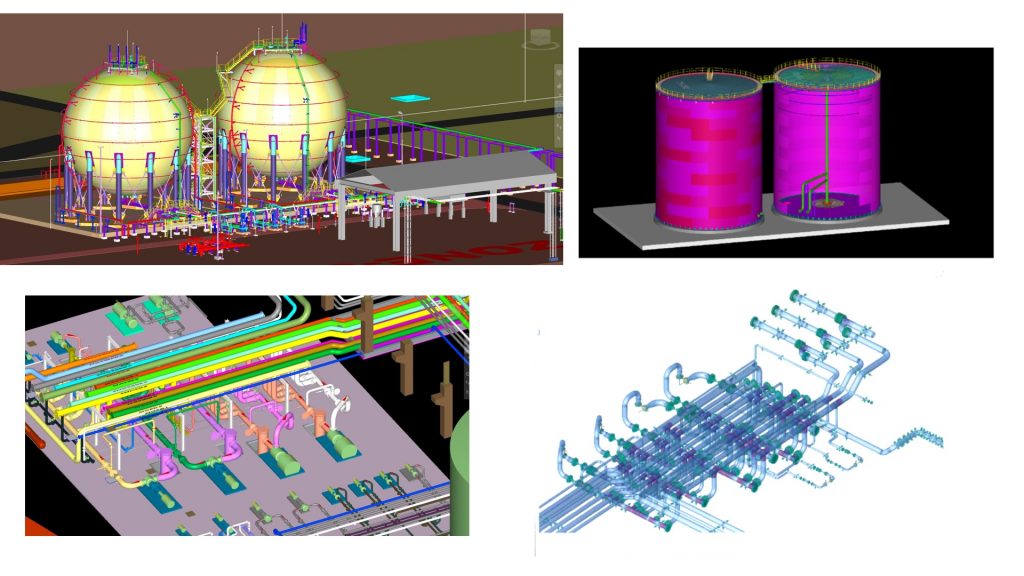 The highly competent CYLINGAS design team consists of well trained & experienced professionals (Draughts men as well as design engineers) with an up-to-date knowledge of the latest design codes & standards used worldwide. This knowledge, combined with the latest high end designing software and intensive training's gives CYLINGAS an extra edge when it comes to designing the custom built process equipment with the most intricate of designs. Total Engineering Solutions For Tank Terminals, Process Equipment, Civil & Piping for Oil & Gas / Petrochemical Industries, Pressure Vessels, LPG Tanks & Process Piping, Skids.
DESIGN & ENGINEERING SERVICES:
Basic Design & Engineering.
Detail Engineering.
API Storage Tanks Design and Detail Engineering.
Pressure Vessel Design and Detail Engineering.
Mechanical Design & Engineering.
Piping Design & Engineering.
Stress Analysis of Piping.
Civil Design & Engineering.
E&I Design & Detail Engineering
Structural Design & Engineering.
Structural Detailing.
Process & Thermal Design (Equipments).
Skid Design & Engineering.
Local Load Analysis of Nozzles.
FEA Analysis of Components like Nozzles, Cleats etc.
PSV, ESD etc. Sizing/Selection.
Heating Coil Design & Engineering.
Piping Layouts, Plot Plan and Isometric Development.
Firefighting Design & Engineering.
3D modeling by Using Cad Worx Plant Professional.
SOFTWARE CAPABILITY:
PV Elite & code calc.
STAAD Pro.
CAESER II.
Prokon.
Instrucal.
Nozzle Pro & MAT Pro.
AutoCAD.
Autodesk-Inventor.
AME Tank 7.5.
Nozzle Pro.
CAD Worx Plant Professional.
Fast CAM-CNC Programming.
Project Management (Oracle).
Orthogen.
Isogen.
Pipe Data Pro.
Autocad Steel Structure.
In-house Generated Standard Excel Sheet (for API TANK).
P&ID Drawings, Plant Layout & Detailed Engineering.
Mathcad
DISCIPLINE EXPERTISE
Mechanical
Piping
Civil & Structural
Instrumentation
CODES & STANDARDS:
List of following major International codes and standards used in General practice but not limited to
ASME Sec. VIII, Div. 1 / Div.2 |
ASME I,II,V & IX | ASME Sec. I
ASME B 31.2 / 31.3 / 31.4 / 31.8 / 31.9 / 16.34 / 16.47 / 16.5
API STD. 650 / 620 / 653 / 2000 / PD 5500
BS EN 10025 | BS 8110 | BS 5950 | BS 6399 NFPA | ACI 318 | WRC 107 / 297 | UBC/ IBC/ ASCE-7 etc.
Ref. Books & Various Company Standards