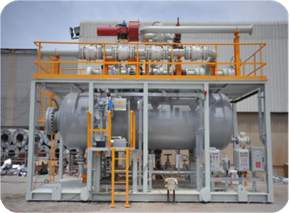 Shop Fabrication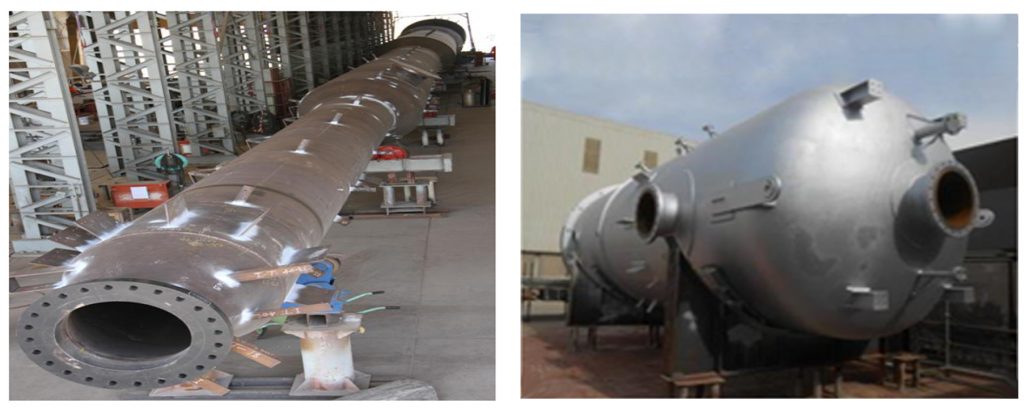 Design:
Design, Engineering, Procurement, Fabrication, Painting, Testing of ASME Coded Process Equipment
Pressure vessels, Columns with ASME "U" and "U2" stamp.
Above ground and underground storage vessels, rectangular storage tanks, atmospheric vessels, silos.
Floating suctions and skid mounted units for various process applications.
Design, detailed engineering & construction of pressure vessels, process equipment, columns, towers, flare stacks, Tanks for LPG and propane gas.
Fabrication:
Rolling Machines & Hydraulic Plate Rolling capability up to 70 mm thick plates
CNC Cutting Machines / Plasma Cutting Rail Gauge 3600 mm
CNC Drilling Machine capable of handling plate thickness of 100 mm maximum
Scaffolding Works with a dedicated team, tools & equipment combined with an excellent QA system
Painting Facilities supervised by NACE & British Gas (BGAS) Certified Painting Inspectors & Supervisors
Skilled Manpower comprising of CNC & Rolling Machine Operators, Welders, SMAW, FCAW, TIG, SAW
Fabrication Equipment Sample Capabilities:
Pressure Vessels Atmospheric Tanks
Heat Exchangers
LPG Storage Tanks
Air Receiver
Separators
Scrubbers
Silos
Strainers
Surge Tanks
Process & LPG Skids
Waste Gas Knock Out Drum